Walkthroughs
Method 1 (Easy)
The route itself is self-explanatory, though actually executing it is harder than it may appear due to the nature of the semi-circles you will be jumping on (and the enemies). Be careful to avoid all of the launchpads (save the first one) as you will plummet to your death. At the first launchpad, just tap right slightly until you reach the apex of your jump, when you need to hold right to land on the first semi-circle.
Method 2 (Highscore)
Method 3 (NEHS)
This is a nice end to the 0's column. From the start, launch yourself to the platforms above. Watch out, the laser drone and gauss turret are mean, and they work like a team. Get onto the peak of your hill, then jump up and to the left. Up and left again, then another time, and then you can flip the switch. Leap to the middle hill on the top, then jump to the terminal. Get out quickly, before the gauss shoots you. Then, simply drop down and let gravity smash you into the exit.
Congratulations, you've beaten Episode 9, therefore acheiving transcendence!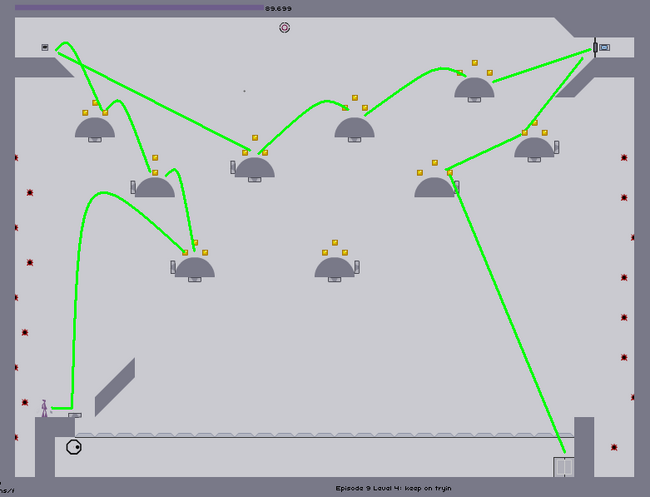 Flavor
As you have completed the entire first column, a new flavor is available in the "Configure" area of the main menu. You can turn the ninja various colors, and after beating the first column you can turn it pink. http://i18.tinypic.com/54bxbls.png
Level Data
$keep on tryin#Metanet#09-4#00100000000000000000000001000000000000000001110020000000000000000010000000;0000000000000000000000:000000000000350000000000000000000035000000000000;0000000000000000000000:00000000000000000000000000;0000000000000000000000:0000000000000000000000000000000000000000;0000000000000000000000:0000000000000000000000000000000000000000000000000000000000000000000000000;000000000000000;000000:000000000000000:00000000000000000000000000000000000000000000000000000000000000000000000;0000000000000000000000:00000000000000000;0000000000000000000000:000000000000000000000000000000000000000000000000;0000000000000000000000:000000000000000040030000000000000000000103500000000000000001111010000000000000000000010100000000000000000000|5^60,468!12^24,192!12^24,276!12^24,360!12^24,444!12^24,528!12^36,402!12^36,486!12^42,318!12^42,234!12^756,192!12^768,288!12^756,384!12^768,480!12^744,540!12^756,432!12^756,336!12^756,240!6^84,540,2,0,1,0!11^684,564,732,60!2^96,504,0,-1!9^60,60,0,0,30,2,1,-1,0!3^348,36!7^108,516,1!7^132,516,1!7^156,516,1!7^180,516,1!7^204,516,1!7^228,516,1!7^252,516,1!7^276,516,1!7^300,516,1!7^324,516,1!7^348,516,1!7^372,516,1!7^396,516,1!7^420,516,1!7^444,516,1!7^468,516,1!7^492,516,1!7^516,516,1!7^540,516,1!7^564,516,1!7^588,516,1!7^612,516,1!7^636,516,1!7^660,516,1!7^684,516,1!2^552,228,1,0!2^672,180,1,0!2^168,228,-1,0!2^216,324,-1,0!2^288,204,-1,0!2^432,324,1,0!2^432,168,0,1!2^576,120,0,1!2^648,192,0,1!2^120,168,0,1!2^312,216,0,1!2^408,336,0,1!2^240,336,0,1!0^228,306!0^252,306!0^240,294!0^396,306!0^420,306!0^408,294!0^510,210!0^546,210!0^528,198!0^648,150!0^636,162!0^660,162!0^594,90!0^558,90!0^576,78!0^432,120!0^420,132!0^444,132!0^312,168!0^300,186!0^324,186!0^192,210!0^192,192!0^120,126!0^132,138!0^108,138#