Secondary Relay




Episode
57
Creator
Metanet Software
N version
1.3 and later
Fastest Time
Fastest Player
Walkthroughs
Method 1
Ramp up, and hop over the first block. Wall jump off the inside of every block until you reach the top of the column. Jump to the switch, then jump down to the column of gold on the right. Jump down, avoid the mines, and enter the door.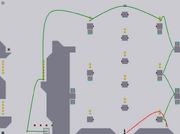 Community content is available under
CC-BY-SA
unless otherwise noted.