I aint paying no landing fee




Episode
80
Creator
Ninja
N version
1.4 and later
Fastest Time
Fastest Player
Walkthrough
Method 1
Not too harder level here, maybe some problems with thumps though.
Start by getting the gold and switch in the first room then the switch and gold in the 2nd room, all straight foward stuff. Move down towards the thwump room and get the gold.
Jump down next to the thumps which will immediately move. As soon as they do jump up and under the bounce block before they squash you. Try to be fast because if they squeeze you out you might end up stuck with the floorguard. The gold is easy to get if you want it, just lower yourself to the slope and jump to the other low slope to the left. Repeat the same process with the thwumps as before. Go into the small enclosure with the turret and wall jump up to the exit switch then quickly run back out. Repeat the same process with the thwumps twice here. When you enter the second room with the turret, immediately wall jump off the small wall on your right and up to the big wall on your left. Wall jump up from here and down into the exit point.
Method 2 (NEHS)
This level is rather simple. From the start, jump out of your plane, apparently. (Why a ninja needs a PLANE, I'm not sure) Land on the bounceblock, then get the gold and flip the switch. Enter the building. Wallclimb up, and into the ceiling room, then get more gold and flip the switch. Drop down, then move into the hangar. Move by the thwumps, let them rush by, then move in-between them. Tip over the edge, then leap across the floorguard pit, getting the gold. Climb up, then repeat for the other two thwumps. Enter the room, flip the switch, avoiding the gauss turret, then drop down and get out. Cross between the thwumps, go over the pit, cross again, then drop down. Enter the final room. Jump up, avoid the gauss, then land in the exit.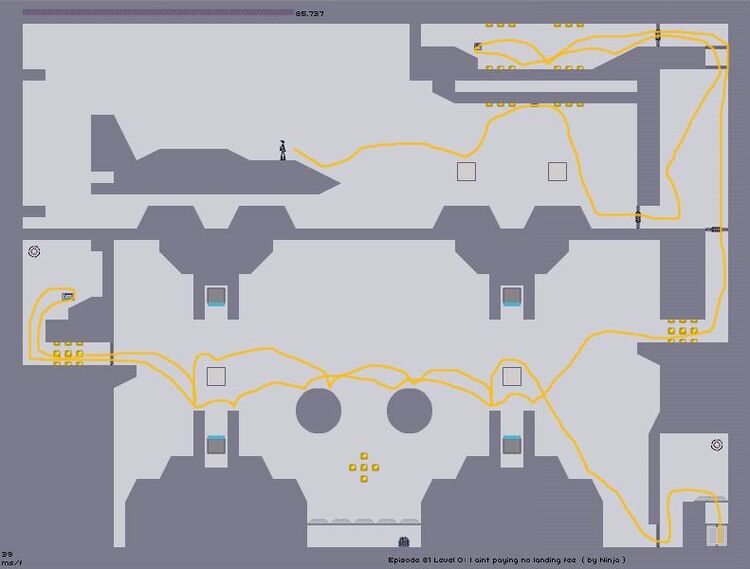 Community content is available under
CC-BY-SA
unless otherwise noted.