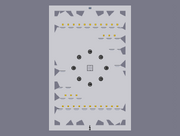 AMomentLikeThis is an active mapmaker on NUMA from England. As of 11 November 2012, he has the highest map total ever recorded on NUMA, (at over 1,500), and the highest rating count (at over 8,000). At one stage, just over 1% of all the maps on NUMA were his own.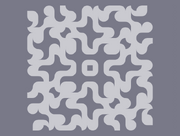 Formerly known as MasterJmd, AMomentLikeThis started playing N in 2004 when given a copy of the game off a friend's memory stick. He played it actively and completed most of the game before discovering NUMA a few months later in 2005.
Although his first map on NUMA is Follow The Leader, this wasn't his first submitted map as he deleted around 200 of his very first maps, as they were, in his own words, "completely rubbish."
AMomentLikeThis overtook HeartView's 662 map count on NUMA in late 2006, and since then has been the member with the highest map count.
His 1000th Map.
NUMA Trivia
Edit
AMomentLikeThis rarely likes his own maps, and has claimed he only submits them as others for some strange reason tend to like them.
His favourite mapmaker is Stepself.
His favourite map is Who turned off the Spotlight? by Cadmus.
His best map in his opinion is Nadia.
He has 10 featured maps, which can be found here .
Achievements
Edit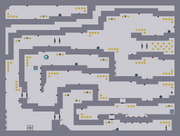 4th place in the catagory Map Maker of the Year with 7% of the overall votes. Barabajagal came first in this catagory with 10%.
4th place in the catagory N-Art of the Year with this map: City Skyline MK. III, with 5% of the overall votes.
First mapmaker to have 1,000 submitted maps.
Current mapmaker with the most submitted maps (over 1,650). He's held this title for around 6 years now after overtaking HeartView's 662 map count in late 2006.
AMomentLikeThis obtained various top-20 highscores between 2005 and 2007, but stopped trying when cheaters started appearing.
He now focuses mostly on speedruns and underclock runs using NReality. He has several 0ths on underclock mode and has a speedrun 0th on 123-0.
AMomentLikeThis had a map accepted into the DS version of N+, and also apparently has a map in the Xbox 360 version of the game.
External Links
Edit
AMomentLikeThis on Numa
AMomentLikeThis on therealn forums
Speedruns by AMomentLikeThis on NReality
Underclock Highscores by AMomentLikeThis on NReality