Blur is a highscoring contest created and initiated by Hendor in 2007, and completed its fifth season, which was hosted by ska, in November 2015.
Host: Hendor
Date Started: December 12, 2007
Winner: mam
Runner-up: xaelar
---
Host: kkstrong
Date Started: Apr 29, 2009
Contest did not finish.
---
Host: Seneschal
Date Started: Sep 25, 2009
Season three was divided into an amateur and pro for both highscoring and speedrunning.

Pro Highscores Winner: vankusss
Runners-up: xaelar and glib_jase
Pro Speedrunning Winner: Izzy
Runner-up: vankusss
---
Originally just hosted by van, but was overthrown as host by ska. ska eventually voluntarily gave back contest control to vankusss after ska's confidence was restored in van's ability to run the contest effectively; however, ska still retained a voice in which maps were selected, as well as the imagery and organisation for the finals draw, including the art selection for the players' flags. A total of 48 players completed, including two players who were eventually replaced due to unavailability.
Date Started: Aug 09, 2010
Highscores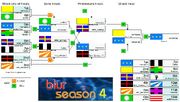 Winner: romaniac
Runner-up: vankusss
Speedrun
Winner: Arctic_Pony
Runner-up: Kool-Aid
---
Host: ska
After about 4.5 years following the start of Blur 4, ska organized Blur 5. The competition had 23 individual competitors, which was half of the initial amount of entrants in Blur 4; but a lower number was to be expected, as the N community had been in a steady decline over the past few years. The competition—although only consisting of nine rounds, including finals—lasted for nearly nine months due to ska's busy schedule. However, the competition was eventually finished, with EddyMataGallos and macrohenry facing off against each other in the grand final in both contest modes.
A video showcasing the grand final round can be seen here (YT: Blur 5 Grand Final) (YT: Blur 5 Grand Final).
Date started: Feb 19, 2015
Date ended: Nov 9, 2015
Highscores
Winner: EddyMataGallos
Runner-up: macrohenry
Speedrun
Winner: EddyMataGallos
Runner-up: macrohenry
Community content is available under
CC-BY-SA
unless otherwise noted.