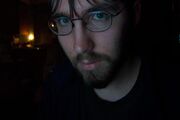 LittleViking
(also known as
LittleViking001
or
LV
) is one of the few admins on the
Metanet Forums
, and is a very active member of the
N IRC
channel and a proud member of
The Legacy Team
, as well as an integral part of the
N
community. LittleViking001 was the fifth registered user on
NUMA
, and the fourth registered player-user on
NUMA
.
He has made 53 maps, of which his fourth map Coalition was included into the 1.4-version of N as 84-1. Of LittleViking's other accolades, his first map was the 582nd map on NUMA.
Among LittleViking's other accomplishments, he took the grand prize during season 1 of the NTTS, and he was the leader of the Youth and Beauty Brigade.
Community content is available under
CC-BY-SA
unless otherwise noted.